In the form below, enter your information, and click the "Sign Up" button to receive your FREE downloadable .pdf activty book. After you enter your information and click the button, you will receive an e-mail with your new Color Me Peaceful Sample Activity Book attached.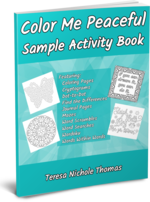 What you will get when you sign up:
A free sample activity book in pdf format;
Occasional freebies only for subscribers;
Alerts when new designs and books are released;
Fun coloring tips, tricks, ideas, and inspiration;
Special offers for subscribers only;
Contests and giveaways;
and Much more!
By clicking "Sign Up", you are agreeing to my Terms of Use and Privacy Policy.